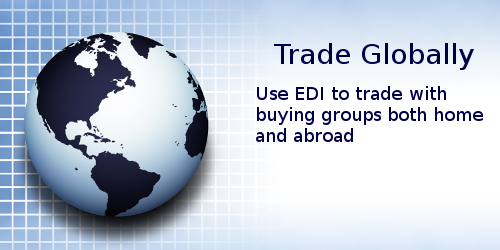 The EDI Suite is a fully featured EDI system that controls the information flow between your back office and the EDI systems of the central billing groups. With one piece of software you can deal with multiple different CB groups and successfully trade with hundreds of individual stores and warehouses nationwide. The EDI Suite gives the user a very simple but powerful interface to allow the user the freedom to decide which transactions get sent to the CB groups.
Features include:
User Defined Data Validation

One of the main issues with EDI is to ensure that the data being supplied to the CB group contains all the information required to allow them to approve invoices for payment. This information can range from delivery docket information, to order information through to POD information with each individual CB group requiring different information. Data validation within the EDI suite allows you to be comfortable that the information you are sending is correct ever before it is sent. This gives you the confidence that your invoices will be accepted for payment and reduces the need to credit, thus improving your cash flow.

Ease of Use

The EDI Suite is designed to be simple and straight forward to use. Each step is laid out in a logical progression one after another; there is no need for fiddly shortcut keys or hidden options. What You See Is What You Get.

Supports EDIFACT & TRADACOMS

While the majority of CB groups based in Ireland will only ever need to trade using EDIFACT there are some companies trading in the UK which will need the TRADACOM standard. The EDI Suite from CompuCount supports trading in both of these different standards.

Integration

The EDI Suite is a fully integrated EDI system meaning that all information is pulled and pushed directly to the back office system. There is no need to manually enter information into a website or another application.

Plugin Framework

The EDI Suite's Plugin Framework allows plugins to be created for individual central billing groups with custom requirements. This ability to have custom modules for individual groups makes the EDI Suite extremely flexible when dealing with the specific needs of some of the buying groups.