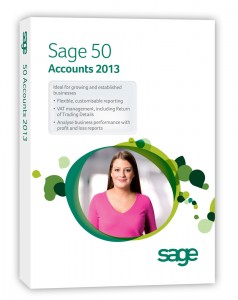 Sage 50 is Sage's flagship product which is targeted at the smaller business. There are good reasons why it is the most popular product in this sector of the market.

Here are a few of the reasons our existing customers have purchased Sage 50:


Easy to get going

The setup wizards in Sage 50 let you hit the ground running explaining all you need to know in language that is easy to understand. The context sensitive help system also explains each field being displayed and lists the different options that can be used.

Manage Your Finances

Sage 50 can be used to monitor exactly how well your business is operating. Take control of your cash flow, monitor your bank accounts, see your creditors and establish which customers need to be chased for payment.

Manage Your Stock

With Sage 50 you can control exactly how much inventory you have on hand, manage sales orders and run backlog reports to prevent stock outs. Check which products are performing and more importantly which ones are costing you money.

Know Your Customers

Use Sage 50 to find out which customer buys what, how much and how often. Know how much each customer spends, how long they take to pay and how much they contribute to your bottom line. All important information needed when meeting your customer face to face.

Create Your Own Reports

Sage 50 comes with a huge number of reports included as standard, giving you easy access to important business information. Using the Sage50 Report writer, you can use these reports as a basis for your own bespoke reports or even start from scratch an build your own report to integrate your business the way you want to.

As Sage Developers, CompuCount can provide bespoke solutions based on Sage 50.