Exchequer Enterprise from Advanced Business Solutions is a fully featured back office system designed to place important information on your customers, suppliers, partners and operations at your fingertips.

It offers an unrivaled ability to view 'the big picture' of current conditions within your business and then analyses the underlying transactions and root causes of any anomalies. With simple, logical navigation and a high-performance inbuilt search engine, finding information in Exchequer is truly effortless. Don't underestimate the power of Exchequer to transform your business as you gain unprecedented insight into your most - and least - profitable activities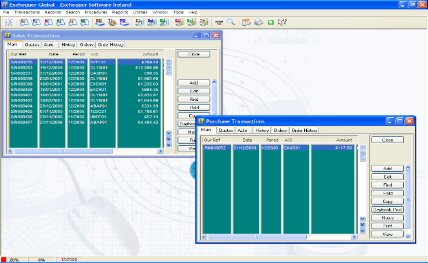 Here are a few of the reasons our existing customers have purchased Exchequer:


Large SQL database

Exchequer has been designed from the ground up, to cater for companies with a large volume of transactions. Through its use of SQL, data access is optimized, while at the same time the database engine maintains data consistency throughout the system. More traditional back office systems begin to suffer from high levels of performance degradation once the volume of data begins to grow. This ultimately leads to long delays in processing, data corruption, frustrated staff and customers, and has an adverse effect on your bottom-line. If you are buying a system, make sure it is designed to handle your current business volume and is responsive as it grows.

Multi-Location Stock Control

Exchequer's multi-location system is designed to give you control over how your business manages its stock levels over an entire organization. In Today's business world, more and more companies have to deal with the headache of multiple warehouse locations or consignment stock. Traditional back office systems require an awkward work around to deal with this, but are still not 100%. With Exchequer, you can not only see where your stock is, but you can also see its current stock level and current incoming order quantity. Minimum and maximum stock levels can be set at location level for each stock item helping you avoid stock outs and control over supply.

Data sensitive pricing

Promotions and price changes can be the bane of office staff's lives when using traditional back office systems, resulting in long hours of keying, disputes over pricing and credits for back-dated transactions with the wrong price. Bottom line, a lot of manual work, unhappy customers and disputes having an adverse effect on cash flow. With Exchequer's data sensitive pricing, the work on updating prices can begin weeks or even months in advance of the go live date. Once the go live date passes, the system will seamlessly switch pricing to the new price model, while at the same time allowing back dated transactions to be entered into the system automatically reverting the price back to the previous value.

Hierarchical Nominal Ledger analysis

The General Ledger provides your users with access to management information for any period or year, by cost centre, department, or a combination of both - at a glance. View top-level information on monthly trends in a table, chart or even a graph and then take advantage of unrivaled drill-down to the originating transaction entries. Use the instant 'sideways' Object-Drill to see all information related to that transaction. Comparing the performance of sales teams and individuals, different branches and product lines... it all just takes a moment.

Head-office Feature

Excel Integration

Modern technology links Microsoft Excel dynamically to the rich financial management data held within Exchequer enabling you to create live financial management reports instantly, in a familiar and user-friendly format. This is the essential tool for budgeting, forecasting, cash flow analysis, consolidations and financial modelling

Customized document layouts

Banking modules for SEPA/EFT transactions

With eBanking, you have the facility to send payments via your bank's software which is one of the most efficient ways to save money. You can also download statement data and perform automatic bank reconciliations.
Plugins and Add-ons


As Exchequer Developers, CompuCount can provide bespoke solutions based on Exchequer.